Event Details
SANJO B. PRESENTS​
DESCRIPTION:
Mamajuana Cafe Queens, located in Woodside-Queens, this Dominican restaurant (and its vibrant adjacent nightclub) is famous for its mouth-watering and brilliantly innovative Latino cuisine, which combines time-honored traditional recipes with delicious new twists. Our chef Sergio Gonzalez creates all sauces from scratch and from Dominican Republic to Colombia, our dishes exemplify the authentic flavors of the Caribbean Hispanic and South American culinary tradition. Try one of our delicious LATINO INFUSED SUSHI ROLLS – Rolls made with touch of our Latino gastronomy – there simply amazing. Our beautifully decorated eatery also provides catering (and offers private rooms for parties and other events), and we are particularly renowned for our sumptuous weekend brunches, especially  highly creative, cocktail menu and a superb wine list and personalized prideful service, cap off the whole experience, making Mamajuana Cafe Queens one-stop shopping for world-class cuisine and entertainment, all in one.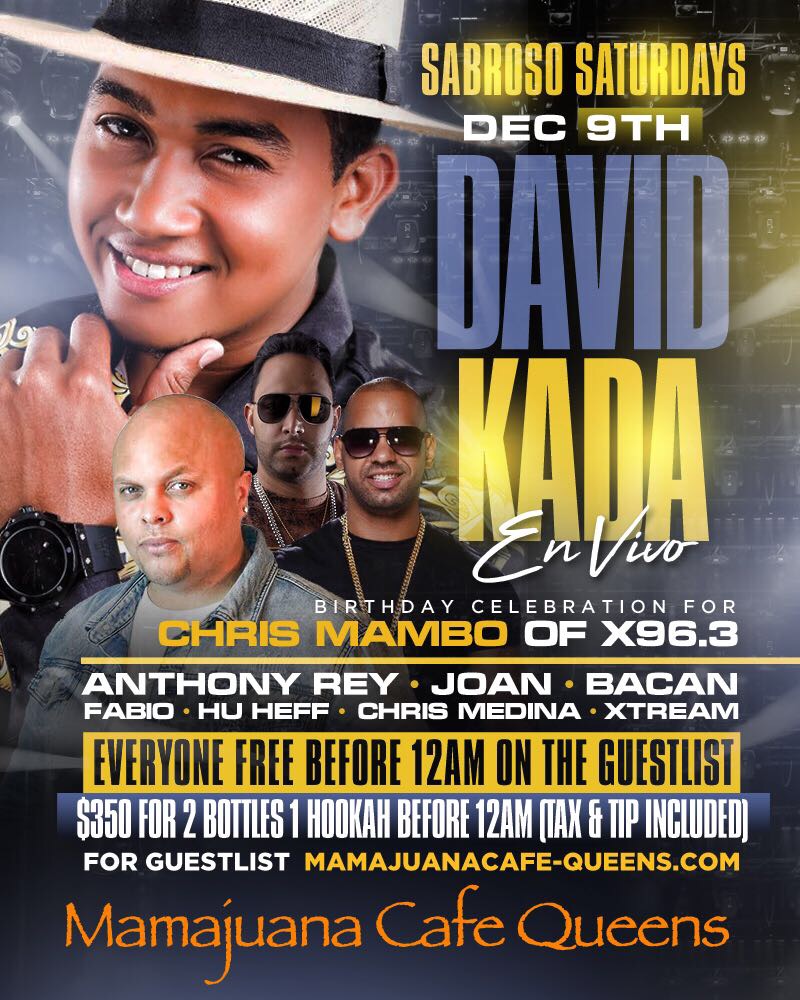 ​
Time: 10PM TO 4AM
​
Venue: Mamajuana Cafe Queens 33-15 56th St Woodside, NY 11373
​
DAVID KADA LIVE 
SPECIAL BDAY FOR
CRHIS MAMBO OF X96.3FM
​
DJ: 
​
DJ CHRIS MAMBO OF X96.3FM
DJ JOAN OF X96.3FM
DJ ANTHONY REY OF X96.3FM
DJ HU HEFF
CH FABIO
DJ XTREAM
DJ CHRIS MEDINA
​
Special::​
$350 2 bottles and a hookah before 12am must rsvp
​
​
​
Music: EDM, Latin, House, Top 40 and more
​
​
​Guest List Info: ​ To get on KING SANJO'S guest list you can print this out and present it at the door. You can also call 646 577 5869. You can also e-mail Sanjo@KingSanjo.com. You can also subscribe by clicking on the guest list button below.